Welcome to the Friday Five, the Five pieces of financial information you need to know going into the weekend.
1. We all want to protect our children- but too much is actually too much. Read here.
2. Staying on the healthy kid theme

–

this podcast episode from Helen Owens about raising financially healthy children is it. Listen here.
3. Members section: here is your carefully curated content we have hand selected for you this week based on your glidepath. It's never too late to join us and it's now extremely economical: ($15/mo or $150/year).

Here is the content for each glidepath this week:
FRAN:  

Week 6: Financial Minimalism – How to simplify expense tracking.


Not sure of your glidepath? Take our quiz here.
Wealth Edit Popup-

Don't be fooled by the title of his book "This is how your marriage ends." Matthew has more insight into marriage health than anyone we have ever met. If you have a healthy marriage, you are considering marriage, you know someone who is married, you should tune in. This live members only pop up podcast will be held at 4:00 pm CT on Monday, February 13th.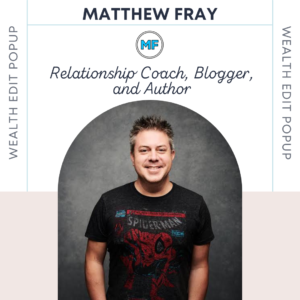 4. The race is on…Tough week for Google- they came out with a competitor to chat GPT, but it had a few issues in demo which cost them at one point 100 billion. Read here.
More in Tiktok: Link here.
5. We asked ChatGPT best practices for financially healthy kids: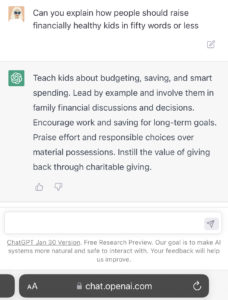 If you like the vibe of the Friday Five, please share with your friends!
Happy weekend,
Lauren & Emily