Welcome to the Friday Five, the Five pieces of financial information you need to know going into the weekend.

1. We talk a lot about how the financial industry was built by men for men. This week we stumbled upon a very interesting read on the history of women and banking. Anyone want to guess which great state founded the first reputable women's bank? Read here.
2. Why inflation matters and why policymakers aren't an immediate answer- last week we discussed the world shrinking. Here is a short TikTok on this and how we are playing by a completely new set of rules, which means we should change. The easier answer is that policymakers should encourage these changes, but as you will read here we are already playing catch-up.
3. Wealth Edit Member Glidepath content unlocked – If you are a member you are now getting customized curated content each week built just for you. It's not too late to join (link here) and here is the content for each glidepath this week:
4. For listeners everywhere: Our podcast of the week goes a little dark and deep with Peter Zeihan. He maps out what the next world order will look like, explores how global shifts will shape investment opportunities and risks over the short and medium-term, and discusses why inflation is rooted in the labor situation and is likely to persist longer than many expect. Worth a listen – maybe twice: Listen here
5. Chat GPT in fifty words or less: Since we believe our personal spending habits in times of contraction are super important but want to make sure we aren't biased, see what our friends at OpenAI would suggest.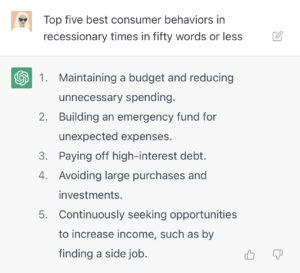 If you like the vibe of the Friday Five, please share with your friends!
Happy weekend,
Lauren & Emily